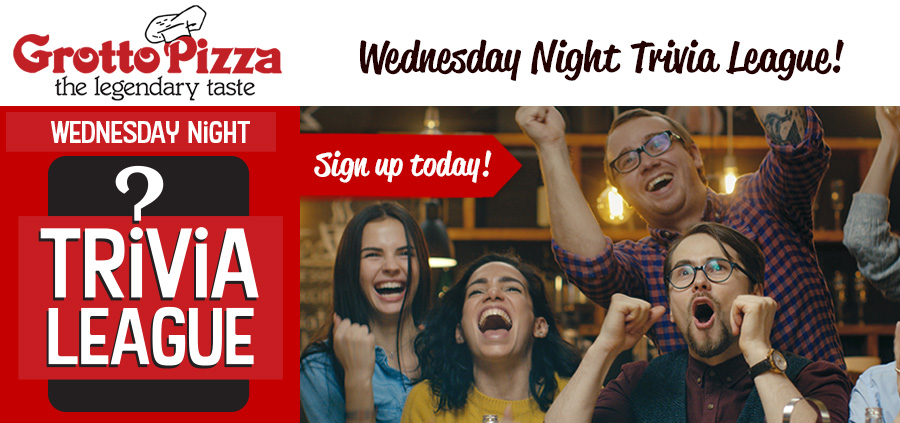 ---
Grotto Pizza & Know Limit Trivia Wednesday Night Trivia League
Wednesday Nights @ 7 PM
April – May 2019
What is a team?
A team is a group of up to four people with a catchy name!
Each team has two Captains and they must provide contact information (phone number and email address) on the sign-up form.
One of those Captains must be present each week.
The other players on the team can change each week except players who have already played as part of one team cannot be substitutes for another team.
Every team member must be over 21 years old.
When do they play?
Every week, teams compete on Wednesdays from 7 p.m. to 9 p.m. Again, at least one team captain must be present for each participating team.
Why are we playing?
Each week, the winning team will receive prizes for up to four players. Those prizes include t-shirts, hats, and movie tickets. At the end of the regular "season" the top teams compete in a playoff to crown a champion. The team that wins the championship will receive a FREE party for up to twenty persons at the Susquehanna Brewing Company, catered by Grotto Pizza. Time and date of the party will be determined in coordination with SBC.
How do I sign up?
On this page! Or ask the bartending staff at Grotto Pizza Wilkes-Barre has a sign-up form. Ask to sign up! It's free to play, as long as you and all your players are over 21. You will be required to provide the name and contact information for two team captains as well as a list of players for your team. Remember, at least one of the Captains must be present each week or you forfeit that week's match.
Only at Grotto Pizza & The Skybox Sports Bar • 337 Wyoming Valley Mall • WILKES-BARRE, PA
(570) 822-6600
Centrally located just off Interstate 81 and Route 309, minutes from the Pennsylvania turnpike. Situated outside of the popular Wyoming Valley Mall and within view of the new Mohegan Sun Arena. Close to most major hotels and lodging areas with delivery to most. Family dining, sports bar, and private party rooms and packages.
Open Daily:  11:00 AM – 10:00 PM